Saturday, August 08, 2020
,
8:30 AM - 4:15 PM
---
Pursuing Christ Together
LifeWay Women Live Simulcast
Watch on your own or with a group of friends
Digital pass is active through October 8
After months of social distancing, it's time to gather for the first-ever LifeWay Women Live Simulcast. A full day of practical study with your favorite authors in a gorgeous setting, where women, unapologetic and unshakeable in their pursuit of Christ, can come together.
This simulcast has so much flexibility:
you can watch it on August 8 or any time through October 8* (scroll to WHAT'S A DIGITAL PASS?),

plus you can watch it

anywhere on your own, or watch it virtually with a group of friends, or even in your own home with friends

(scroll to WHERE CAN I WATCH IT).
Below are some quick Q&As, but you can find all the info and purchase your registration by clicking the LifeWay button below.
LIFEWAY DETAILS & REGISTRATION

FAQ's
When is the simulcast?
Saturday, August 8, 8:30 am – 4:15 pm (see WHAT'S A DIGITAL PASS below)
What's a Digital Pass?
It's one of the great benefits of simulcasts—virtual access to all sessions for 60 days. So even if you aren't available August 8, or you're available only part of the day, or you miss a session, you can still watch the simulcast through October 8. That means you can watch the entire simulcast, any sessions you miss, or re-watch only those you want to hear again, over and over again as much as you want, through October 8!
Who are the featured speakers?
Some of LifeWay's leading authors and teachers – Beth Moore, Priscilla Shirer, Jackie Hill Perry, Jen Wilkin, Kelly Minter, Angie Smith, Jennifer Rothschild, and Kristie McClelland. Worship will be led by Brooke + Boggs. See below!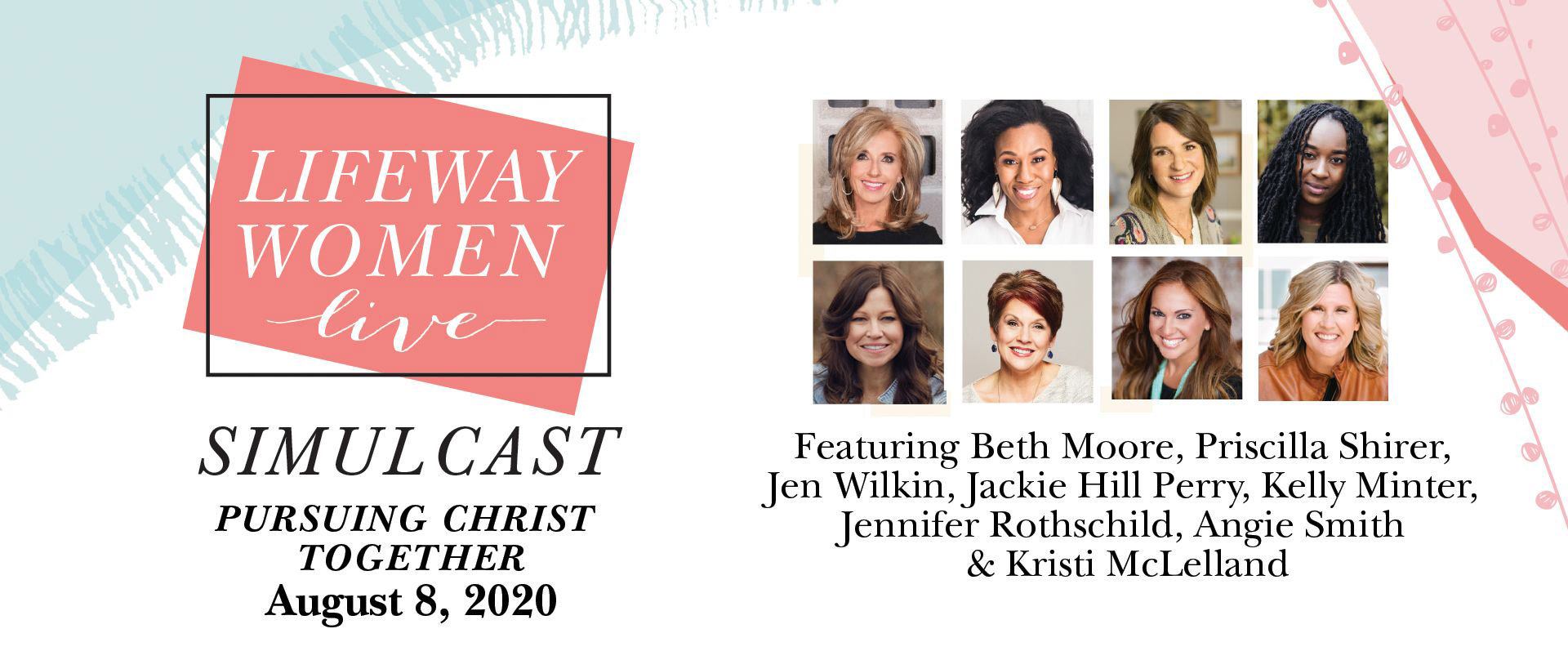 How much does it cost?
$20 per person
How can I simulcast the event?
You'll need a computer, internet connection, and a minimum of 5MB continuous download capability. For more info and to test your connection, click on the LifeWay link above and scroll to "WHAT IS A SIMULCAST."
Where can I watch it? You can:
What about childcare?
Childcare is not provided, so get creative … maybe let daddy have a day with the kids while you have a day with God and the girls!

Questions?
Contact Deree Tarwater at 267-704-5678, ext. 209, or click here to email.