Thursday, September 17, 2020
,
7:00 PM - 9:00 PM

Connect. Create. Celebrate ...
... with a bright pop of color to brighten your days! Do you love to paint? Never painted? Always wanted to try? Join us for Ladies Night In – Zooming In On Painting, a step-by-step night of painting in the comfort of your own home on Thursday, September 17 at 7pm. We will connect with others, create together, and make a floral scripture-art masterpiece with the verse Psalm 25:15 – "My eyes are always on the Lord." You will celebrate the grace of our God by honoring him with artwork to display in your home or give as a gift. See photos below to get an idea of what we're painting.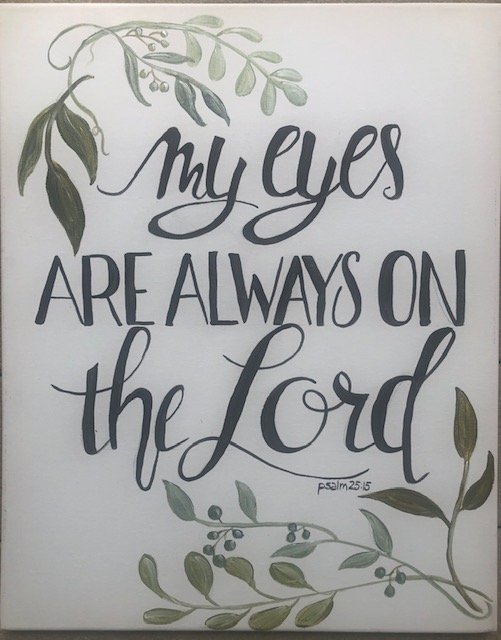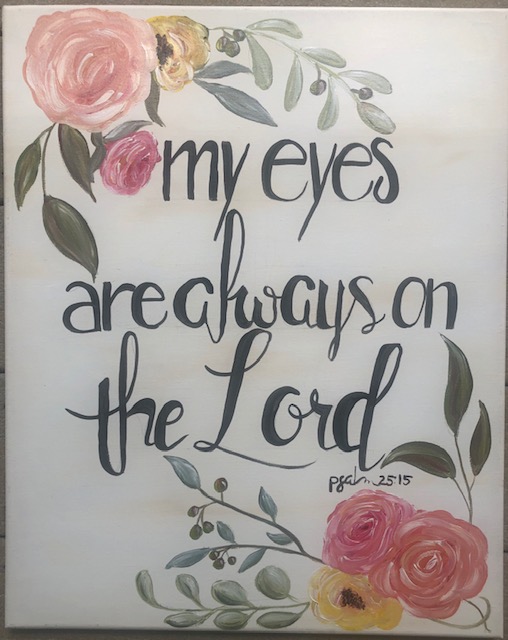 SUPPLIES:
You'll provide your own supplies, which may cost $20-$30. You can find them at Hobby Lobby, Michaels, or most any craft supply store. Be sure to check their 50% sales coupons! Here's what you'll need:
16" x 20" canvas
Acrylic paint (or craft paint for a more economical option) in the colors of red, yellow, blue, green, black, white (or similar colors)
Paint brushes (or a paint brush set) for acrylic paints that include 3/4 flat, 3/8 flat, fine line round (or similar sizes)
Tabletop easel (optional—see SET UP for other options)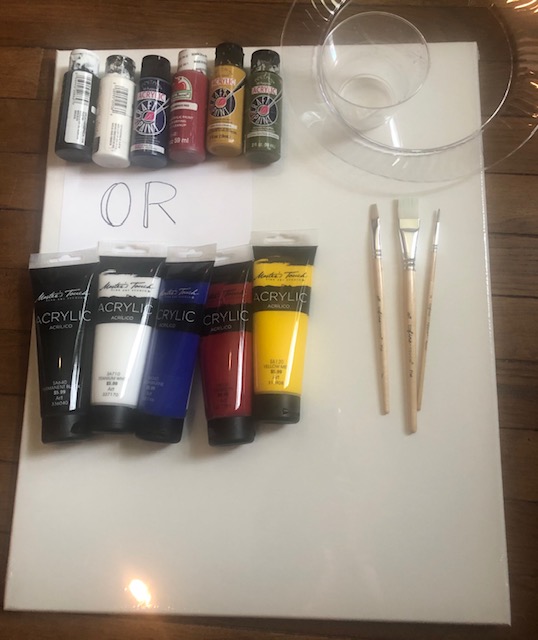 SET UP YOUR PAINTING AREA:
You'll need:
Drop cloth, old cloth, or newspaper to spread over and protect your work surface.
Disposable cup of water for rinsing brushes.
Disposable plate or palette for your paints.
Tabletop easel (optional). Other options include simply laying your canvas flat on your work surface or elevating the top end of your canvas on some books.
FYI: Normal room ventilation should be sufficient.
PREP IN ADVANCE:
At least an hour in advance (or to reduce stress, do it a day in advance), paint a thin coat of white or light paint over the entire canvas. This will be the background.
When the background has dried (after at least an hour), use a pencil to lightly draw three straight horizontal lines on the canvas to provide spacing for the verse. Draw the lines 6 inches, 10 inches, and 14 inches from the top.
Questions?
Contact Deree Tarwater at 256-704-5678, ext. 209, or click here to email.