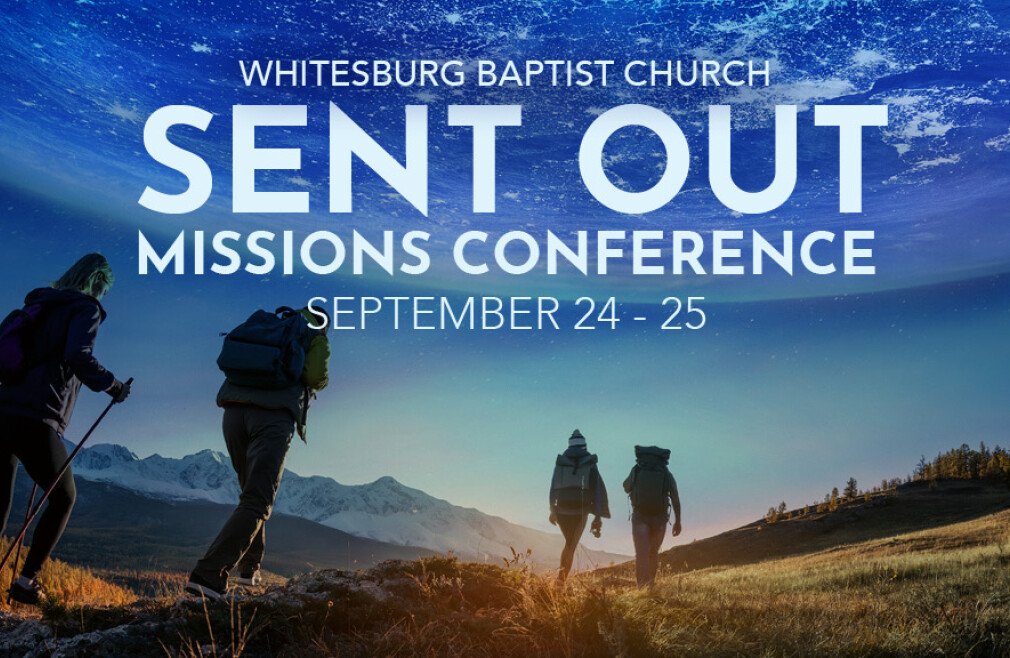 Saturday, September 24, 2022 - Sunday, September 25, 2022
"Then after fasting and

praying they laid their hands on them and
sent them off."
Acts 13:3
Let's come together to send out this fall, as we host our Sent Out Missions Conference! This will be an exciting time to hear from and pray for our missionaries, learn about what God is doing around the world, and to pray for our world as you journey through our Global Prayer walk. Learn more below.

Saturday September 24, 4 - 6:30 pm
South Campus Fellowship Dining Room
Enjoy a variety of ethnic foods and hear a dynamic message from Gordon Fort, the son of missionary physicians who served in Zimbabwe. You will also hear testimonies from several of our missionaries and have a special prayer time together. Registration is now closed.




Gordon Fort, Guest Speaker
We are thrilled to have Gordon Fort as our guest speaker for the weekend. Gordon is currently serving as the Sr. Ambassador for the President, IMB. Click here to learn more!



Sunday, September 25
Main Campus
Join us for worship at 9:30 or 11 am to hear a message from Gordon Fort! We will have a special time in each worship service to pray over our missionaries. Missionaries will also share in Life Groups.



Sunday September 25, 4 - 6 pm
South Campus Gym
At the Missions Fair, you will be able to personally meet and talk to missionaries who have traveled from the countries where they are serving around the world, just to be here this weekend and share their work and passion with you. You will also get to talk to our local missions partners, who are serving our communities right here in Huntsville, and find out how you can be a part of serving in missions in your hometown. No registration is needed.

Kids Mission Quest
Each child will start their mission quest by picking up a Kids Mission Quest Adventure booklet. As they journey through the Missions Fair, they will follow prompts in their booklets to search for answers that can be found at our mission partners' tables. For every correct answer, they will receive a stamp. When they get 12 stamps, they can go to the Kids Mission Discipleship table to get a prize!

Sunday September 25, 4 - 6 pm
South Campus Atrium
The Global Prayer Walk will be an immersive experience, taking you through a gallery of images and objects from the eight affinities of the world. Learn about the people groups in the countries of each affinity, see how they live, and pray for the people and the missionaries who serve them as you walk through each exhibit. The affinities, as defined by the IMB, are: The Americas, Europe, NAME (North Africa Middle East), Sub-Saharan Africa, Central Asia, South Asia, Asian Pacific Rim, and the Deaf Affinity. No registration is needed.
Prayer Keychain
As we prayerfully stroll through the 8 affinities of the world in our Global Prayer Walk, we will build a prayer keychain along the way. Each affinity will have a colored bead representing the people in that region of the world. The colorful keychain will remind you to pray for the many different peoples of the world.